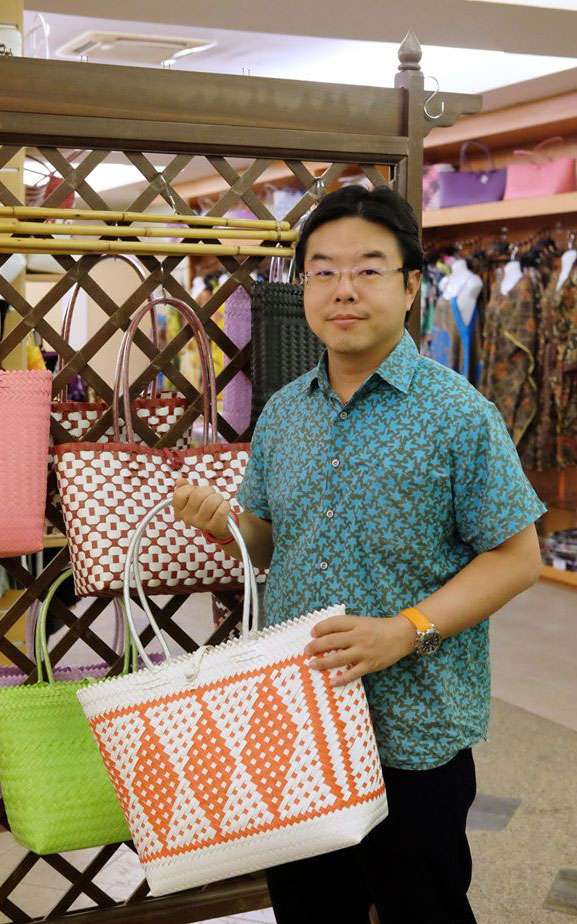 The CEO
Colin Yong is the current CEO of Jadi Batek. Colin received his Business Administration degree at Hitotsubashi University, Japan. After graduating in 1996, Colin joined EDS, one of the largest IT service company in the world, as an IT consultant. During his tenure there, Colin has undertaken many global responsibilities out of the headquarter operations in Japan, Thailand, Australia and Taiwan, serving major retail customers like Jusco, Jardine wine and spirits and Carrefour.
Upon his return to Malaysia in 1999 after discovering limited growth in the corporate world, Colin was given the task to spearhead the family business. In his pursuit to change and streamline Jadi Batek Centre, Colin brought his high tech know-how and experience and applied them into the family business. His vision is to grow a small, low tech, family business like Jadi Batek Centre into an international level, equivalent to that of Royal Selangor and Jim Thompson. That aside, he is also dedicated in bringing batik to the world through numerous workshops held for tourists at Jadi Batek Centre.
Jadi Batek saw great growth and expansion under Colin Yong's leadership. Through streamlining operations, introducing new products, and ensuring that each product under the Jadi Batek Centre umbrella was one of the best in its field, the company was able expand dramatically from 1999 until today.
Being an innately warm and friendly person, Colin likes interaction with people and specializing in an industry as unique as batik, is thus fulfilling – he gets a chance to meet many people and share a piece of the Malaysian heritage to the world. This ability to educate people about batik gives Colin much personal satisfaction. His management ideas and leadership skills are both admired by his employees, batik artists and other Malaysian batik entrepreneurs.
Artist
Batik artists at Jadi Batek Gallery are all Malaysians. We are a good combination of book smart and street smart individuals.
We have batik artists who inherited the craft from their family and there are those who have obtained their diplomas and degrees from the National Craft Institute (Institut Kraf Negara). The senior artists in our establishment have more than 20 years' experience in batik-making.
Our batik artists' day-to-day job is to produce unique batik designs for our gallery. They also produce custom-made designs for corporate-wear and interior decorations. In addition to in-house designs, we also outsource materials from local and overseas boutiques.
Jadi Batek in one of the very few boutiques that opens its doors to visitors who wish to see how batik is made. Here, visitors will get the opportunity to witness our talented artists transforming a white cloth into an exquisite piece of batik art.
For those who wish to get a hands-on experience of making batik, we have batik-making classes where our talented Malaysian artists will guide you through the process of producing your very own batik masterpiece.

The Ambassadors
Our Sales Ambassadors are the first personal to welcome our visitors. They are the one that take visitors to the free batik tour; they will be giving you an in-depth explanation on the rich history and intricate process of batik-making. The best part is, our sales advisors are multi-lingual. They can give you clear explanations and suggest gifts and souvenirs for you to bring back home from Malaysia.