This is a physical fun batik class to draw a Batik pareo at Jadi Batek Gallery, Kuala Lumpur, Malaysia.
Never done before, no worry. Our friendly instructors will guide you all the way.
First, you sketch your design with a pencil and then you will get to experience to use a special tool "canting" to apply wax on the cloth.
Next is to apply dyes. You can choose your preferred colours from a range of beautiful dyes we have prepared for you. You can even mix them to create custom colours.
Indulge in your creativity experiment with burst of colours and voila your own batik pareo masterpiece is now complete.
After that, we will help you to fix the color, remove the wax and sew the edge. It will take 3 days and you need to come back again to pick up. Otherwise, delivery service can be arranged with extra charge.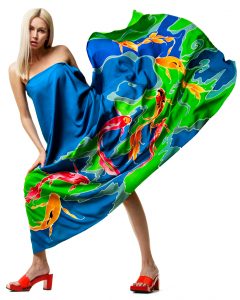 Class is available everyday at 10am and 2pm.
Please email to info@jadibatek.com or call +60328568715 to make a booking before you come.
Please inform us the order number and name for verification.